A Guide to Sending Birthday Flowers
When it comes to celebrating someone's birthday we try our best to make the person feel special! And what better way to mark the day, than with birthday flowers. When you order birthday flowers that special person will enjoy a fresh bouquet that will last for days - and everytime they look at the birthday blooms, they will think of you.
If you're thinking about buying birthday flowers our guide aims to give you a few simple ideas on the types of birthday flowers to consider. For instance, one useful tip that may help you in making a choice on the type of bouquet, is looking for flowers based upon the month the person was born in, or their birth flower.
Choosing a bouquet that consists of flowers by the recipients birth month may add additional significance for you and the recipient. You can also chose a birthday bouquet with flowers that describes the personality of the person. There is also choosing flowers based on popular opinion or best sellers. Below we will cover these suggestions further, so let's get started.
Birthday Flower Best Sellers
There are some simple but elegant birthday flower bouquets that are designed for birthday occasions. If your goal is to surprise someone at work or at home with a bouquet look for birthday flowers that are sure winners like birthday best sellers. Many of the top online florists have best sellers for every occasion or they show the top sellers on the top by default. So finding the best selling flowers that their cutomers have bough the most should be easy.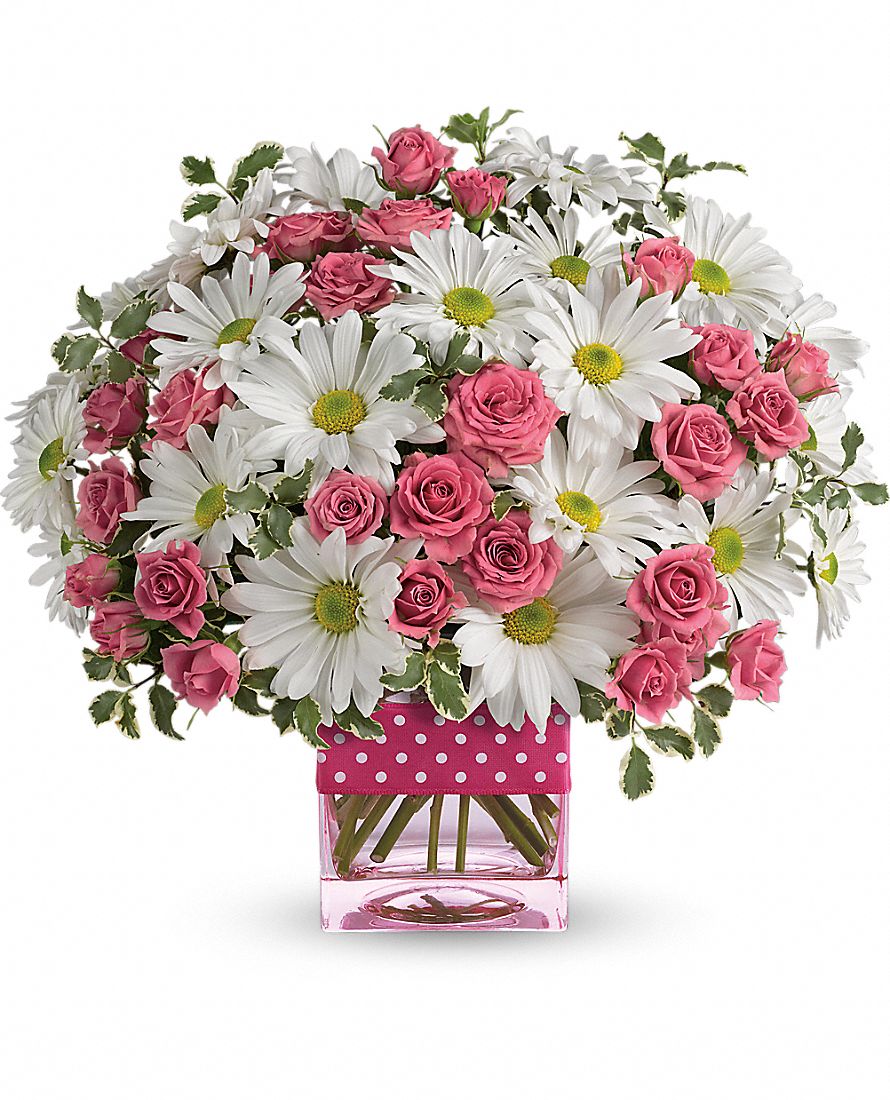 One example is the Teleflora Polka Dots and Posies bouquet. This Teleflora best seller is a cheery blend of white daisies and pink roses in a pink glass cube vase, accented with a pink polka-dot ribbon. This round and compact birthday bouquet can adorn your recipients' office desk, bedroom mantle, kitchen table or dining room table.
Teleflora describes it as a gift of pure joy! We think it also makes for an adorable birthday gift. So check out the best sellers first.
If your a fan of Teleflora visit our Teleflora deals page for great discount offers and coupon codes to buy birthday flowers.
Birthday Flowers - Meaning and Symbolism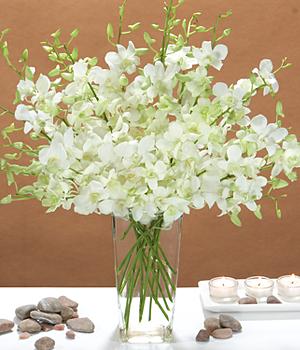 If your aim is to perhaps use the occasion to symbolize a new beginning or communicate why the birthday flowers are special then understanding the language or meaning of flowers will help make the occasion special.
We suggest bouquets like this one to the left from Proflowers as an example. It's their White Dendrobium Orchids bouquet that comes in an optional green vase. Orchid represents love, luxury, beauty and strength. Who wouldn't mind getting birthday flowers that represent beauty and strength. Also orchid bouquets rank amongst the finest in elegant birthday flowers.
You can tell by looking at this bouquet of orchids, that it will surely make a big impression.
These 30 orchid stems have multiple cloud-white blooms, and are sure to set anyone's spirit soaring. There is simply no flower that equals the angelic charm of the white Dendrobium orchid.
For additional great offers on birthday flowers and more visit our Proflowers page.
Birth Month for Birthday Flowers
For every month of the year there is also a corresponding flower that represents the birth flower for the month. Birth flowers were traditionally planted to celebrate the season in which a child was born. Flowers by birth month can be a great idea for decorating for a flower birthday party.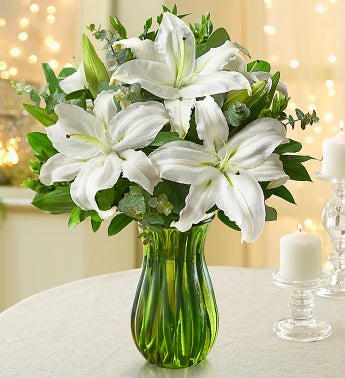 For instance 1-800-flowers has the All White Lily Bouquet. The lily is May's birthday flower and can vary in colors. The wonderfully fragrant and beautiful lily represents purity of heart, innocence, and friendship.
These large white lily bouquets have exotic flower heads and carry a sweet fragrance. If oriental lilies personify sophisticated and style what better way to compliment someone on their birthday by giving them a bouquet that represents how you see them.
Your Options are unlimited!
Hopefully by using this guide you will find it a lot easier to find the right birthday flower arrangements you need. Having birthday flowers delivered is easier than ever using online florist - so let your birthday recipient cherish the moment with a bouquet.