A Guide to Sending Mother's Day Flowers
Our mother's mean the world to us and what better way to show your mom how much you appreciate her, than with a bouquet of flowers for mother's day. Flowers have long been considered a favorite gift given for mothers day and every year florist online and off come up with some great looking bouquets to celebrate our moms.
If you're not sure what type of flowers to give mom consider some of these simple suggestions to get you started. When you order your mom, mother's day flowers she will enjoy a fresh bouquet that will last for days.
Mothers Day Flower Bouquets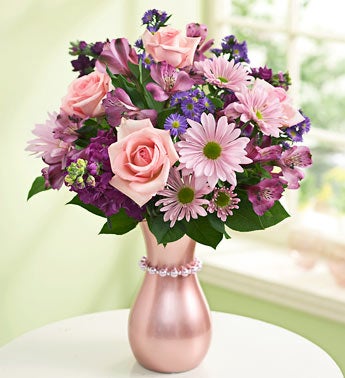 There are numerous elegant mothers' day flower bouquets that are designed for this special day. If your goal is to surprise mom at work or at home with a bouquet, look for bouquets that are designed especially for mother's day.
Like the Lavender Dreams in Pink Shimmer Vase, pictured to the right. It's a lovely lavender-infused arrangement of the most beautiful roses, daisy poms, stock, and alstroemeria and monte casino. It's delivered in a shimmering pink ceramic vase with an exquisite decorative faux pearl bracelet just for moms.
This elegant bouquet can adorn your mom's favorite room in the house, office desk, bedroom mantle, or dining room table. For mother's day consider all the arrangements specifically designed for moms in your life and pick the one that captures the beauty of the mom in your life.
Does mom have a favorite flower? Then find a bouquet that is vibrant and full of her favorite blooms that she can adore for days on end.
Mother's Day Flowers – Meaning and Symbolism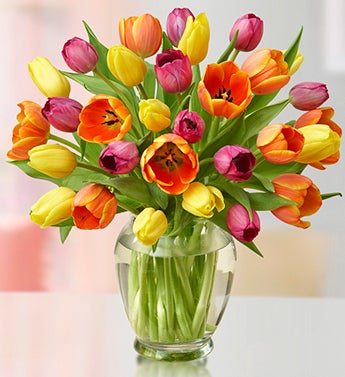 It's one thing to pick a bouquet from an assortment of choices and it's also another thing to pick flowers that convey a special meaning for you and the mom you love.
Search for flowers that have a special meaning that expresses your feelings. There are numerous flowers that symbolize different meaning that are perfect for mother's day. In the language of flowers, a Tulip bouquet represents elegance and grace.
This Delightful Tulip Bouquet, pictured to the left is just bursting with color and life and reflects the elegance of what many moms embody.
The vibrant multicolored tulips are a surefire way to bring a smile to any mom on mother's day. Whether they're for your sister who's a mom, friend, or simply someone close to your heart, this gorgeous fresh tulip bouquet can turn Mother's Day into a smile-fest.
The Traditional Flower for Mother's Day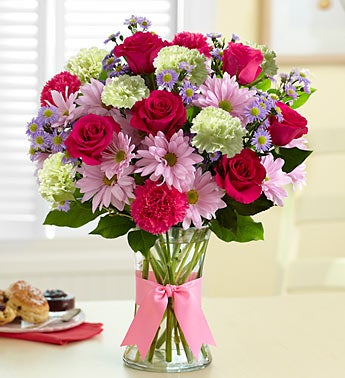 Carnations have traditionally been worn on mother's day and can be found in a wide range of colors. So why not go with a mixd bouquets with carnations.
While carnations generally express love, fascination and distinction, every color carries a unique and rich meaning and are a perfect choice for mother's day.
Here the Make Their Day Bouquet, pictured to the right is a one-of-kind bouquet featuring carnations, long stem hot pink roses and lavender daisy poms is reminiscent of a cottage garden. Delivered in a clear gathering vase with raspberry satin ribbon, it's sure to make mother's day unforgetable.
Pink carnations carry the greatest significance, beginning with the belief that they first appeared on earth from the Virgin Mary's tears – making them the symbol of a mother's undying love.
A mothers love is unwavering and any gift large or small will probably make mom happy. Yet when it comes to sending her flowers you can go the extra mile and make it special. Flowers always represent a thoughtful gift of appreciation and love so don't be afraid to shower her on Mother's Day with blooms she will cherish for days.
Flowers are Still Popular
Last year according to a 2012 Brand Keys Mother's Day survey of 5,000 men and women, 73% of the respondents said they would be buying flowers for their mom, which represented a increase of 3% over the previous year. So don't think flowers are a thing of the past.
With more and more consumers turning to online retailers to send flowers, finding an inexpensive mother's day bouquet is not hard to do. You can now find sites like our that specialize in finding valuable discount deals and coupon codes to send flowers cheaply online. So check out our offers for mother's day flowers if your thinking of ordering online this year.
Resources:
Wikipedia - Carnations: Traditional Meaning
Flowers depicted from - 1-800-Flowers.com